Orthodontic treatment from our Glenelg practice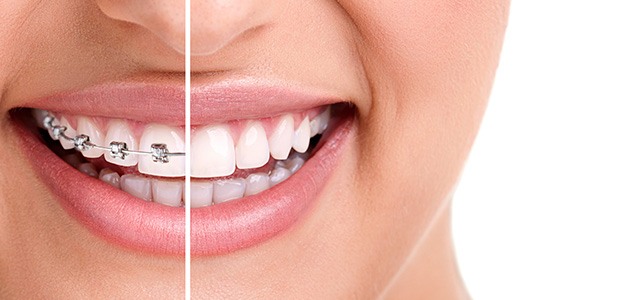 Dr Giac Cirillo, our principal dentist is now offering patients orthodontic treatments from braces through to Invisalign. Now you won't have to waste time travelling to specialists.
Orthodontics treatments
Orthodontics is an area of dentistry which focuses of the positioning of the teeth and bite. Dr Cirillo will use attached appliances such as braces to move crooked, overlapping teeth and incorrect bites into the correct position.
The Dental Studio offer patients the following orthodontic treatments:
Traditional braces
Traditional braces are the metal braces most people are familiar with. They are a tried and tested design used for efficient treatment for simple to severe cases. Metal brackets are placed on each tooth with a metal arch wire running along the length of your smile. Small rubber bands attach the wire to the brackets which can be customised to any colour making them very popular among young teens.
Clear braces
For a more discreet straightening option, clear braces are made up of clear brackets on each tooth. They work in the same manner as traditional braces apply a gentle pressure to each tooth to move them into the correct position. We recommend this treatment for older teens or adults who are concerned with the look of braces who are still interested in the efficient and trusted braces design.
For more information on braces visit our orthodontics page here.
Invisalign
Invisalign is the modern alternative to braces for patients who want virtually invisible treatment. Patients use a series of clear trays attached to small attachments on the teeth to apply the gentle pressure. Trays are replaced every fortnight as teeth move into place. This treatment is ideal for adults and patients who are involved in jobs or activities where they need to give presentations, or in the public eye.
For more information on Invisalign visit our Invisallign page here.
 Straight teeth are healthier teeth
Many people believe straightening teeth is simply for aesthetics. However, straight teeth offer a range of health benefits for the teeth, gums and the body overall. Straight teeth remove any hard to reach places when brushing and cleaning, reducing chances of decay and gum disease. Straight teeth also remove any uneven wear and tear on teeth resulting from an uneven bite. This uneven pressure can cause weakening of certain teeth leading to chips and cracks as well as jaw and neck pain.
Orthodontics from The Dental Studio
We are proud to be offering these services to our patient's right from our Glenelg practice. We understand how busy you are and how frustrating it can be to have to juggle appointments at different locations. Now you can receive the treatment you need from the dental team you know and trust.
If you or your child are interested in receiving orthodontic treatment contact The Dental Studio today to organise your initial assessment.